By Sama Nemat Allah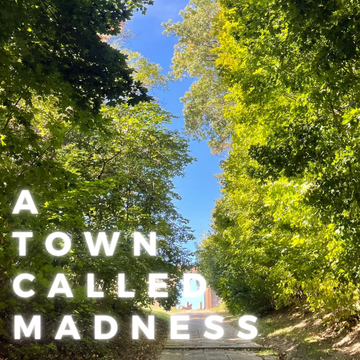 Sometimes I think about what this town would look like if it was coloured in madness instead of its hues of white 
In the 1980s, Parkdale, a now heavily gentrified neighborhood in the west-end of Tkaronto (colonially known as Toronto), became home to thousands of ex-psychiatric patients. After the closure of Queen Street Mental Health Centre, the largest psychiatric facility in Ontario, the city transported all its inmates into group homes — a profit-maximizing endeavour marketed by the state as a humanitarian effort. This shift towards so-called de-institutionalization left many poor and disabled patients houseless in South Parkdale, earning it the territorially stigmatizing title of the "Psychiatric Ghetto."
But for Leah Lakshmi Piepzna-Smarasinha, a queer, Brown, Mad, and disabled artist, de-institutionalization allowed Mad and Crazy people to congregate freely as a collective and organize about their conditions, and to "demand our right to be Crazy without punishment."
So what does it mean to migrate from a space that pathologizes you–one that sees you as a disorder, an illness, a delusion, a hallucination, a deficit– to one where your everyday experiences are considered special and valuable enough to denominate you an artist, creative, poet, author, maker and human being?
This journalistic composition draws inspiration from Mad/disabled/crip imaginaries, texts and scholarship of what Mad society and Madness look like – namely from La Marr Jurelle Bruce who once observed the ways the English language will often position Madness itself as a place rather than an abstract object (i.e. you have gone mad, you have gone crazy).
I want to futurize a space founded on this liberationist idea of Madness. What does it look like for Mad artists to create unapologetically–slowly, quietly, loudly, wildly and unconstrained by capitalistic, abelist and sanist systems that hinder them? What does it look like when we position madness not as a pathology to be feared and remedied, but as a home for Mad art, Mad artists and Mad bodies and minds?
In alignment with these notions of homes, I see this work as an invitation to return. It's not enough to view the piece once because the text on the screen is different than the voice that overlays it and there is so much art happening simultaneously that you're obligated to come back to it when you can take it all on wholly. I hope we translate this to the way we make community with Mad people – always willing to return to them, to give space and pleasure and reverence to their nuance and their pain and to their non-normative modes of existence.
I hope this demystifies Mad artists and Madness. I hope it does not fall on tropes of Mad creatives. I hope we stop being seen as caricatures of subjugation but as sites of comfort, collectivity, and resistance. I hope this feels radical. I hope it feels unsure, tensile and unruly for "the way to go mad without losing your mind" is sometimes so.
A transcript to the audio can be found here.