By Olivia Wiens
From consumers to businesses to government entities, everyone has a part to play in the future of sustainable fashion — but cost and size inclusivity make it harder for some than others
Deep in the dry Atacama Desert in Chile stands a towering mountain coated in the colours of the rainbow, reaching new heights every day. While its peak stretches further into the sky, the colours cascade through the sierra, dipping through valleys and gleaming against the sun. Blues and oranges and purples and reds line the cliffs in a soft pattern, promising to outlast the people staring up at them. The swirling tye-dye catches the eyes of the nearby locals — this mountain has become what they're known for.
But how? How can a vibrant mountain in the middle of the driest desert in the world, surrounded by desolate rock and grainy sand, seemingly reproduce itself? And why does this matter to the Canadians lying on their couches some 10,000 kilometres north of where this mountain reigns?
Simply put, this mountain has the help of countless countries, including Canada, to grow its abundance — not in rock or sand, not in foliage or flowers, but in clothes.
Clothes mountain, rising steadily in Chile as this is being written, is the result of the drastic increase in global clothing and textile consumption and production that has nearly doubled in the last 15 years. Of that consumption, approximately 73 per cent of it gets incinerated or dumped into landfills like the one in the Atacama Desert.
But it's time to turn it back on Canadians
Every year, each Canadian purchases an average of 70 new items of clothing while sending 37 kgs (82 lbs) of clothing and textiles to landfills, according to statistics collected by Waste Reduction Week in Canada.
This is largely due to the drastic rise in fast fashion in recent years, with leading companies like Shein releasing up to 6,000 new products per day. And as fashion trends cycle through mainstream media quicker than ever, it encourages fast fashion companies to produce even faster to keep up.
Not only does the conventional fashion industry promote over-consumption, but it's also one of the leading contributors to climate change, emitting up to 10 per cent of annual global carbon emissions. That's more than all international flights and maritime shipping emissions combined, according to The United Nations Economic Commission for Europe.
Canadians contribute almost 500,000 tons of textiles to the nation's landfills each year
"That overconsumption ends up meaning essentially that there is an increase of our unwanted clothing in the landfills," explained Kelly Drennan, the founder of Fashion Takes Action, a Canadian non-profit organization that works to promote sustainability and accessibility within the fashion industry.
Canadians contribute almost 500,000 tons of textiles to the nation's landfills each year, according to a report commissioned by Environment and Climate Change Canada, but that doesn't even account for the environmental impact that the clothing industry makes on the earth before it gets into the hands and onto the bodies of the consumers. In order to see change within this system, we must examine where Canada's overconsumption problem starts: in production
The textile industry largely exists in a non-renewable, linear system. According to a report done by the Ellen MacArthur Foundation, this system uses 98 million tons of non-renewable resources, like harmful oils, chemicals and dyes, to grow natural fibres and manufacture synthetic ones, leaving very little room for recycling. In fact, less than one per cent of global textiles are recycled or reused.
Drennan's organization is working to shape that linear economy into a circular one. She states that in order for clothing companies to be truly sustainable, they need to create a closed-loop manufacturing system, meaning that the excess fabric, water and chemicals needed to create their clothes must be recycled back into the next wave of production.
But with the pressure for an entire systemic shift, it is difficult for companies with a linear chain set in place to restructure it. While large fast fashion brands like H&M and Zara have released sustainability campaigns to attract those in favour of a circular economy, they have been under constant scrutiny for greenwashing their products.
"They're still mass producing these pieces of clothing," said Ashley Stefureak, a journalist who has published environmental and sustainable fashion articles with NatureCanada and Canada's National Observer, among others. "Anything that's being made in mass production, there's just no way that it can be 100 per cent sustainable."
It is the companies that build their foundation around the circular economy that are truly making an impact.
Lynda O'Malley created this is willow with her two daughters in mind. As a Toronto-based company that has incorporated 100 per cent plant-based fibres in its clothing since it was created in May 2021, it is paving the way for other Canadian clothing brands to follow suit. O'Malley began selling her garments in February 2022.
Many of her clothes are made completely out of Eco-Vero, a fibre spun from sustainably and ethically sourced beech tree wood in a closed-looped cycle. "Any of the chemicals used in processing that wood pulp into fibre is completely recaptured and reused," explained O'Malley. While she has not been able to find a Canadian Eco-Vero supplier and currently sources her fabric from Europe, she hopes to find more local suppliers as her business grows.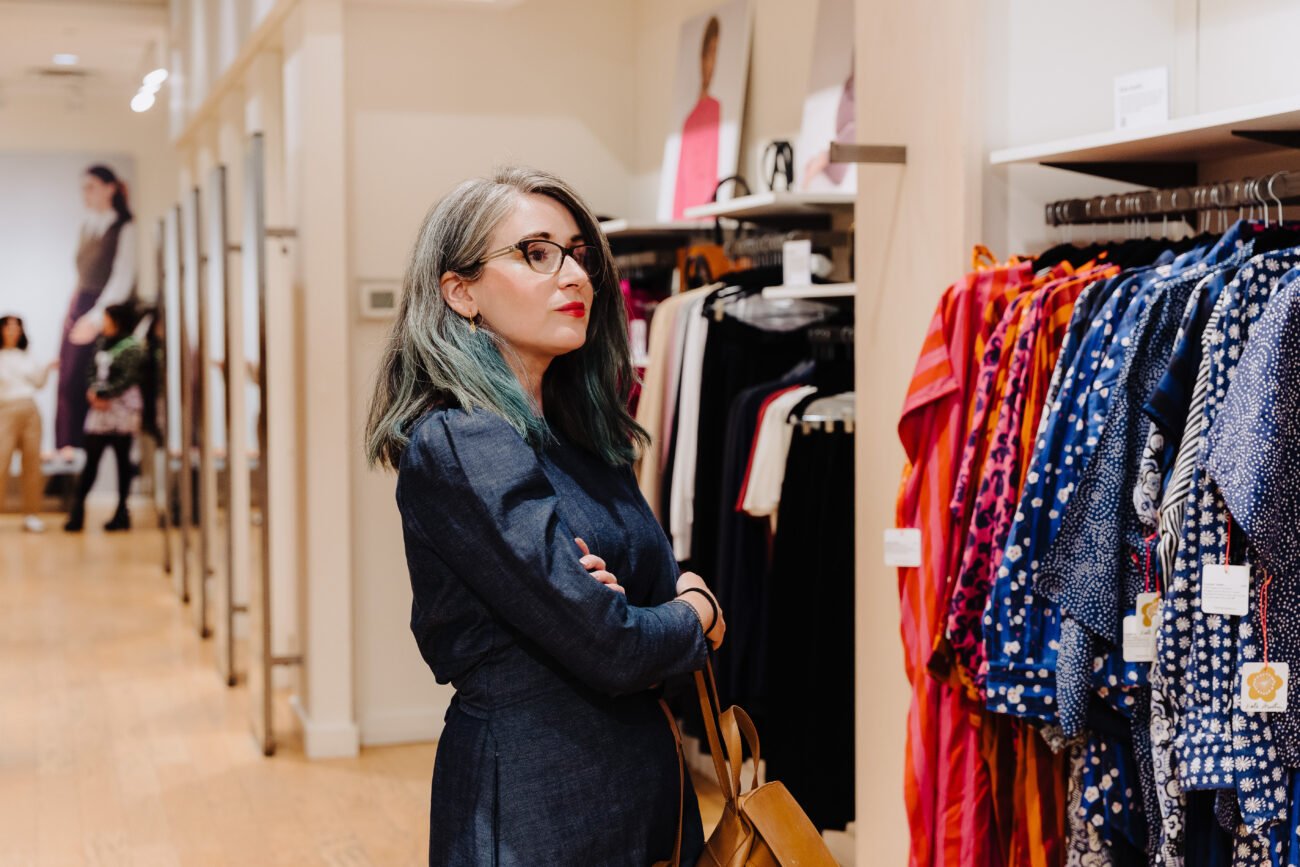 For the rest of her products, O'Malley uses linen, which is made from flax, and deadstock — the excess fabric and materials created in the production stage that typically get sent to landfills.
"All of my fabrics that I've used so far are completely, 100 per cent natural. I don't use any blends because as soon as you put, like, 10 percent or three percent spandex into something, it all of a sudden cannot be recycled," O'Malley said. "So my garments can break down more easily."
In everything she does, O'Malley says she is simply thinking of her daughters and their future. "I want to have a positive impact on the world. I want to leave it the best I can in a better state than I found it."
But for many, sustainable garments are often not made for them. While this is willow offers sizing up to 2X, plus size individuals are frequently left out of not only the sustainable fashion industry, but the fashion industry as a whole.
Free Label, a family-run, plus size clothing company based in Vancouver, B.C., is innovating the clothing business by basing their products almost solely around customer feedback. One of the most prominent customer requests was to increase sizing — so that's what they did.
"We realized through people's communication that there were a lot of underserved people in the plus size community that wanted to shop sustainably and wanted to shop ethical brands, but there just weren't options for them," said Jess Sternberg, the owner and creator of Free Label. Since 2019, the company has added one size every year; they currently offer up to size 5X, but Sternberg is hoping for a future where people can custom order an infinite number of sizes.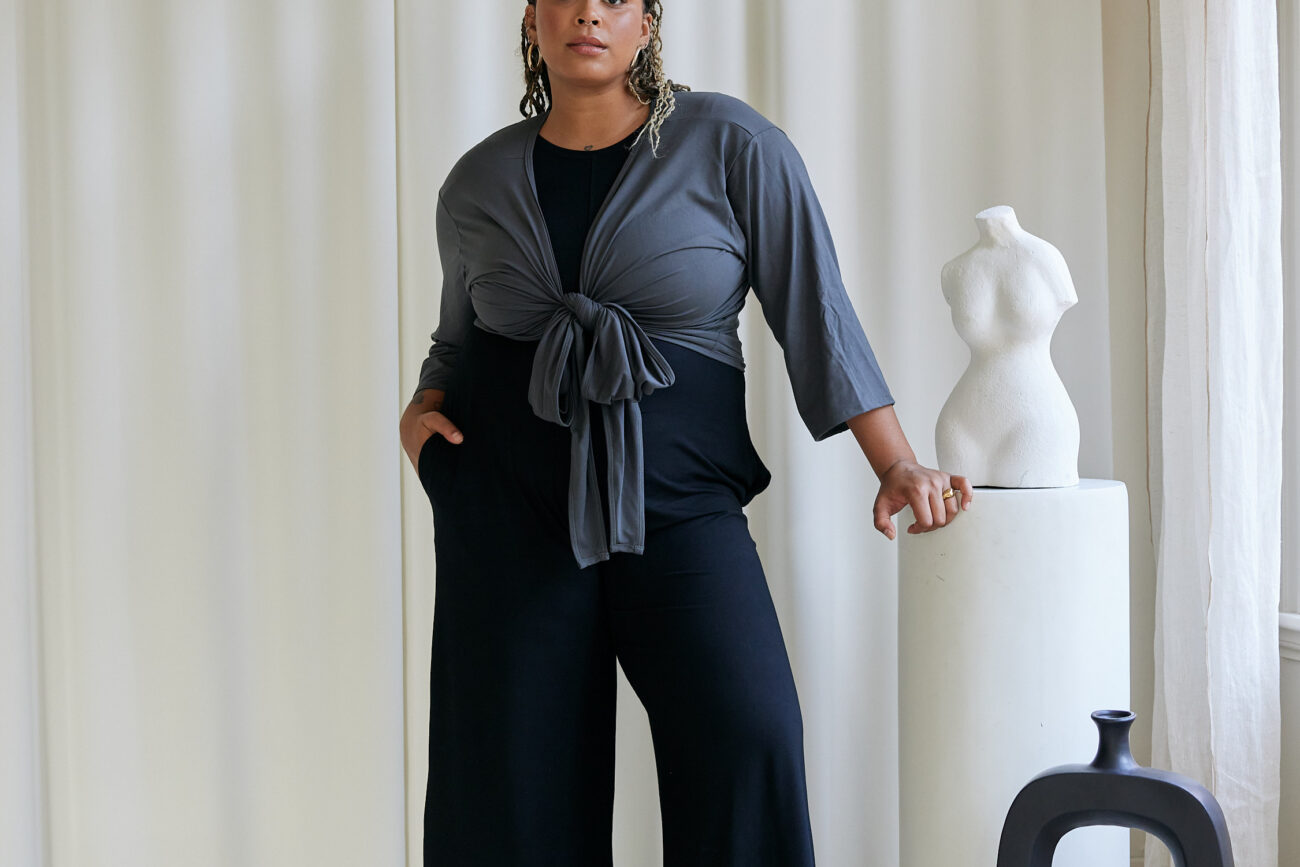 Within their sustainability movement, Free Label produces as little fabric waste as possible by incorporating pre-order systems into the company, which not only allows the customer to receive it as soon as it's ready, but promotes small-batch production and leaves little room for excess product.
But when it comes to affordability, Free Label falls into the expensive nature that sustainable clothing tends to dominate.
"Let's say you have an ethical garment," Sternberg said, "that means the person that made it was paid fairly, that means those materials were, at least, sustainably chosen, whether it's organic or a new technology that is biodegradable or whatever it is — those things just cost more."
Instead of making plant-based and ethical clothing less expensive, Sternberg says the customer, and society in general, needs to shift their perspective on their consumption levels.
"If you see clothing as something that you have to save up for, you budget for, and then you purchase it when you're ready, and then your goal is to keep that as long as possible and even potentially pass that down to the next generation, then things become more affordable because our expectation of how much we should buy has altered," explained Sternberg.
This chronic overconsumption can be attributed to the fashion trend cycle, which has been increasing in speed with the help of social media platforms like TikTok and Instagram. Stefureak says that social media allows the individual to envelop themselves in consumerism, creating the desire to own clothes just for the sake of having them.
"Overconsumption, as a result of overproduction and this fast fashion trend, is really just fueling the entire problem," noted Drennan, "and it's a systemic problem that involves so many different stakeholders to fix."
That systemic problem that promotes the increase in both consumption and production also increases the amount of textiles in our landfills — and the stakeholders needed to mend this system are three-fold: consumers, businesses and governments.
Shelley Haines, a lecturer at Toronto Metropolitan University's School of Fashion, notes that the responsibility of sustainable consumption is often placed on the consumer because it is believed they dictate what is popular, but it's not fair to place the fate of sustainability in the hands of the individual. "In today's market, it can be difficult to make sustainable purchases without considerable research … Not all brands and messaging is transparent or accurate, and there is a lot of greenwashing in fashion," she said in an email.
Because of this, Haines says that governments need to further regulate how goods are sold.
While the Government of Canada does promote a circular economy, their efforts to implement that into the textile world are nonextensive. One of the more notable movements they've made is implementing the Consumer Production Safety Act, which provides broad regulation on all consumer products that are manufactured, sold, imported, packaged, tested or advertised in Canada. While this act rarely mentions textiles specifically, it prohibits the use of chemicals or materials that can harm users and manufacturers.
Aside from that, the government also created the Textiles Labelling Act, ensuring every product is labelled with accurate percentages of each fabric used to inform the consumer on what they are wearing. This regulated transparency discourages fast fashion brands from greenwashing their products and falsifying their sustainability.
"Consumers, with necessary and accurate information, make sustainable choices"
While these acts help to keep businesses liable for their production, it does little to impact the individual's consumption levels.
That is why some municipalities, like the city of Markham, Ont. and the city of Brandon, Man., among many others, have created textile diversion programs that provide education and resources for citizens to donate and recycle their used textiles. Markham was the first municipality in North America to ban curbside textile waste in 2017 in an effort to divert it away from landfills, according to a report done by the Markham Waste and Environmental Management Department.
Even with these government resources starting to pop up, practicing sustainability still requires a level of responsibility for the individual. "Consumers, with necessary and accurate information, make sustainable choices," said Haines.
Through implementing government-provided educational and functional resources, it is simply one way the individual can make a significant contribution to the environment.
"There are many ways that people can participate, such as repairing their existing garments to extend their life, shopping their closet, buying second hand clothing [and] investing in high-quality, ethical garments," said Haines.
But Drennan says the very best way to practice sustainability within the fashion industry is to simply shop your closet and wear what you already own.